There may come a day when money doesn't have as much of a corrupt influence in the political realm, as we all know it does, but today is not that day. Nor will it be for the next four years should Joe Biden miraculously pull off serving his full term.
Biden's been dipping into the bribery well ever since his role as a do-nothing VP gave him just enough boost in power to do so. Prior to that, no one gave the guy a second thought. Joe who?
Old Joe just tapped his good buddy Boston mayor Marty Walsh to lead the charge at the Department of Labor. He's probably as unqualified as any Democrat would be, so okay. But…Some months back, Boston's outspoken mayor started dipping into his own campaign funds to make some fairly healthy donations to a particular D.C. consulting firm.
Developing Story - Trump administration oversaw a RADICAL change to the tech world… one that could unleash a huge wave prosperity… and wealth creation in the near future. Find Out More
Why would he do such a thing? Here's your answer. Because the consulting firm Walsh has been using taxpayer money to help fund is the legitimate birthchild of Anita Dunn, Joe Biden's top advisor. Any further questions? Court adjourned.
SKDKnickerbocker, Dunn's mammoth Democratic communications firm, accepted $18,000 from Walsh's campaign in September, earmarked as "consulting" fees. The very following day, Dunn signed on as one of four national co-chairs for the Biden transition team.
But Walsh must have been on the Biden/Dunn installment plan because over the following three months he kicked in another $72,000 under the same consulting fee guise, the latest of which was made in December.
Isn't it odd how only two weeks following what must have been Walsh's final payment, both he and Dunn got the jobs they were hoping for in the new administration?
SKDK seldom to never gets involved in anything having to do with Massachusetts politics, and up until Walsh's first payment to them, he had never contracted the firm. When confronted by the Boston Herald as to the purpose of hiring the firm, Walsh said to better "prepare for what is ahead for 2021" while he continues to "fully engaged in City Hall work."
A spokesperson for SKDK said the consulting firm is "proud to have provided strategic consulting and communications support to Marty Walsh's reelection campaign for Mayor of Boston." As if instructed to do so, the spokesperson tossed in how Dunn "was on leave from the firm when Mayor Walsh hired SKDK and did not work on the campaign at any point."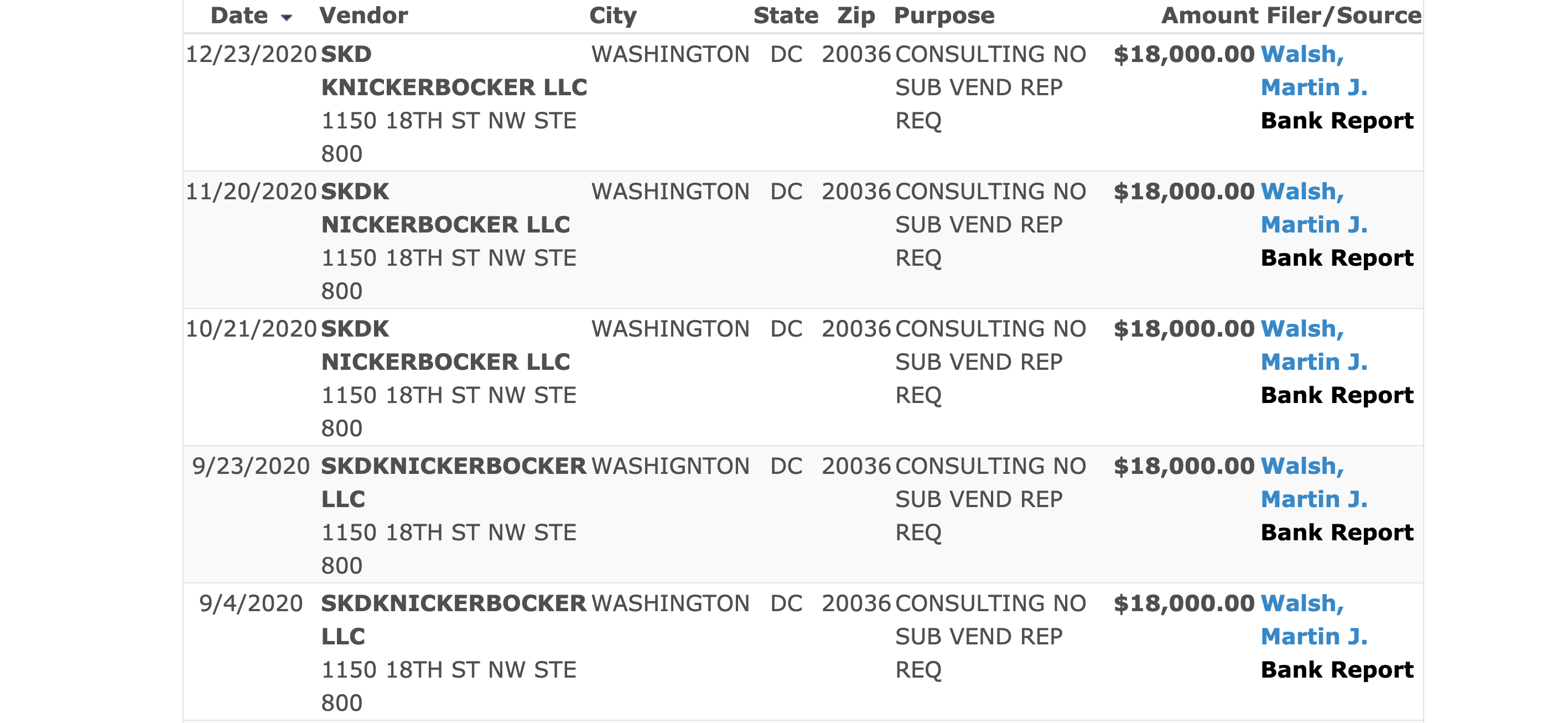 Biden and Dunn are no strangers to one another. The two became chummy enough for Biden to later select Dunn to run his campaign while she was working for Obama as White House communications director. Dunn pulled in a cool $2.2-million in Biden campaign funds over the course of the election cycle.
SKDK benefited further by earning bragging rights from Dunn's selection as a senior White House advisor. They nauseatingly tweeted how "there's no one better to help restore the soul of our nation." Bear in mind, the word restore is subject to interpretation.
So proud of Anita, our friend and partner. There's no one better to help restore the soul of our nation. https://t.co/xLikfX8ZIM

— SKDK (@SKDK) January 15, 2021
The firms' web designer hasn't missed a beat either. A fullscreen graphic now greets clickers with a huge pat on the firm's own back by graciously thanking "Joe Biden, Kamala Harris and all of our clients who fought for the soul of the nation."
But SKDK has not been the only consulting firm to benefit from Walsh's generosity. His girlfriend of many years is in the same business. Though she claims no ownership in the firm she is employed with, nonetheless, the firm gleefully accepted $1.2 million of her "bae's" campaign cash.
Once again, oddly enough. Walsh's installment payments to the firm began just prior to his girlfriend being hired in 2014, and continued through 2020, just prior to Biden taking office.
Money wins again. Qualifications count for little to nothing in the Biden administration, but who's surprised?
The fuse has already been lit... and on March 9th I believe he'll reveal a few more details. If you missed out on taking advantage of the Amazon success story... don't miss out again. Find Out More